Features & Functions
Cruise with Confidence
Whether you like to fish, sail, wakeboard, entertain, explore the seas or just hang out on the water, a smooth-running well-maintained boat is key to your enjoyment. Thanks to a powerful set of features and capabilities, VesselVanguard helps you avoid breakdowns or unwanted service delays—and gives you confidence in the condition of your boat every time you take the helm.
---
Maintenance Dashboard
From a list of your boat's on-board equipment, we create a precise and comprehensive profile of your vessel, plus all the manufacturers' required and recommended maintenance, inspection,  and service tasks that go with it. You can view all of this information in the Maintenance Dashboard feature included in the app.
Every time you log in to your VesselVanguard account, you'll have an at-a-glance look at the maintenance status of your boat. All upcoming maintenance is highlighted, with pop-up windows giving you the detailed requirements. From the dashboard page you can click to schedule and assign upcoming services, defer or reschedule tasks to a later date, get instructions and diagrams from manuals. Every time work is completed, the master calendar automatically recalibrates for the next round of work.
Task Alerts
The average mid-sized boat can have 150 or more service and inspection tasks required each year to maintain warranty coverage and proper operation. We make sure you don't miss or overlook a single one.
Based on the manufacturer's required and recommended schedule for maintenance and inspections, we compile a custom calendar for your boat and its systems—then send you 'Task Alerts' via your phone and email.. Each alert includes a vessel maintenance checklist of upcoming tasks and due dates, with a link to your login page so you can quickly learn more, and easily manage the tasks at hand.
---
Customize Your Boat Profile and Preferences
Your boat, your experience and your lifestyle are different than anybody else's.
So we built VesselVanguard to work the way you want it to.
Add Equipment
Have you purchased a new system or added a piece of gear to your boat? VesselVanguard will add it to your "Boat Profile", upload the manual to your digital library, and integrate the manufacturer's recommended service and inspection tasks into your custom maintenance calendar. Just click the "Add Equipment" link in your boat profile, give us the make and model, and we'll do the rest!
Add Tasks
You may have other periodic service tasks for your boat that aren't part of any manufacturer's maintenance schedule—varnishing brightwork, inspecting your outriggers, cleaning the tender, etc. VesselVanguard makes it easy to add your own tasks into the master calendar, at whatever interval you choose. You'll see those tasks on your "Maintenance Dashboard" and be reminded with specialized alerts when they're due.
Assign Tasks
Because many owners rely on dealerships, boatyards, and service agents to assist in some or all of their boat's maintenance and repairs, VesselVanguard makes it easy to grant third-party access to your profile. These designated contractors have access to only the equipment and systems that you assign to them, with the ability to upload completed work orders and documents. This system puts you at the helm of delegating alerts and assigning responsibility for required action.
---
Searchable e-Manuals
With all the sophisticated systems and technologies on board vessels  today, it's not unusual for owners to receive 30, even 40 pounds, of print manuals along with their boat. Reading through them all in your leisure time is an unmanageable expectation — and trying to find the information you need in an urgent situation can be close to impossible. Fortunately, VesselVanguard gives you an online library of your boat and equipment manuals, all in an easy=to-read digital format. Read them on your iPad or tablet, smartphone or PC, or jump right to the section you need: most manuals are easily searchable with today's generation of PDF readers.
---
Reports
Reports can be generated using the templates provided so they become sharable. Print or save calendars, work orders and maintenance costs by year, system, or vendor, as well as galley stores shopping lists. All PDF files received from manufacturers are presented in searchable, printable reports.
---
Master Equipment List
At-a-glance view of all equipment systems, including manufacturer, model number and date of purchase, and pending maintenance status. Equipment can be added or deleted at any time after initial set-up takes place and your boat profile is activated.
---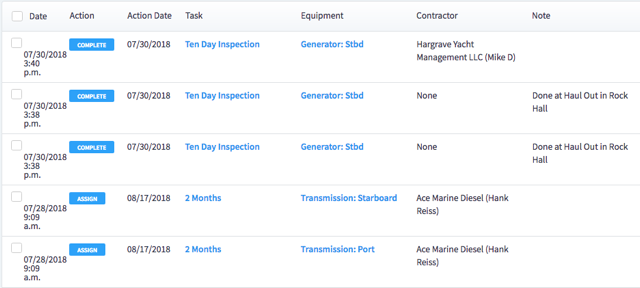 Digital Service Records
This unique feature allows you to upload and store all sorts of files related to the maintenance and repair of your boat: work orders, receipts, emails, warranty forms, insurance claims, notes and even photos or videos. You can link these documents to specific tasks or service events for an organized, digital records library that can easily be search and shared with anyone you assign for that purpose; with your permission, they can also view and upload files. As part of your VesselVanguard membership, the Digital Ship's Log is stored securely in the cloud for anytime/anywhere access from your PC or laptop, tablet device or smartphone.
When it comes time to sell and trade in your boat, your boat's Digital Ship's Log is an important and immensely valuable asset: your ability to show and support the diligent upkeep of your vessel provides critical peace of mind to the buyer and can help you command a higher resale price or trade-in value.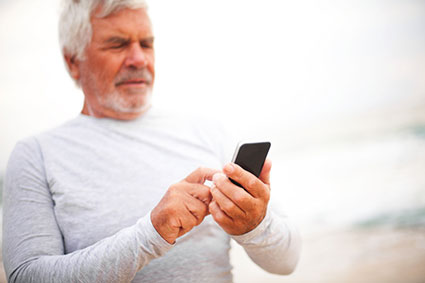 Urgent Notifications
When boatbuilders and equipment manufacturers issue parts or product recalls, service bulletins or other important notifications, VesselVanguard makes sure you get word immediately. We receive these notices from manufacturers worldwide, then automatically search our Boat Profiles database to find and notify members who may be affected—as well as any dealer, contractor or other service agent you have designated for this purpose. Recall notices and service bulletins are given priority status in your Task Alerts, and are visible to you when you log in to your account in your Maintenance Dashboard.
Keep Track of What's On Board
You don't want to leave to dock unprepared. Whether it's a bottle of coolant or a bottle of wine, a spare impeller or some extra mustard, the things we forget to bring on board can dampen the enjoyment or even cut short the trip. Fortunately, VesselVanguard features an online register to record your on-board inventory, enabling you to view and update a list of what's in your galley or down in the engine room—from your office, on your phone or anywhere you go online. Check the list before you leave home, stop by the store on the way to the marina, then hit the open seas confident that you have everything you need to keep your boat—and your crew—running at peak performance.
---
Always There. Always Secure.
We use state-of-the-art technologies to make VesselVanguard accessible to you anywhere
at any time—while ensuring the privacy and security of all your information.
---

When and Where You Need Us
VesselVanguard is a cloud-based service accessible at any time by secure login via computer, tablet, or smartphone—no software installation required. All of your profile information and uploaded records are backed up to co-located servers on a daily basis, with constant updates and regular upgrades to ensure peak performance.
---

Privacy is a Priority
Our Privacy Policy protects the identity and access of all VesselVanguard members, and your information is never shared with third parties. Thanks to our work with the United States Department of Defense, VesselVanguard provides a more robust and secure system built to DoD compliance standards (DIACAP accredited).
---
Resources and Special Offers
As a VesselVanguard member you have access to resources designed to help you use, maintain and enjoy your boat to the fullest degree. This includes discounted offers from our many partners throughout the industry, services to help and inform your cruising experience, special articles and information about boating and boat maintenance, invitations to events at boat shows and other boating-related gatherings throughout the year, and other ongoing and limited-time offerings. To learn more, visit our resources page in the Membership section of this website.